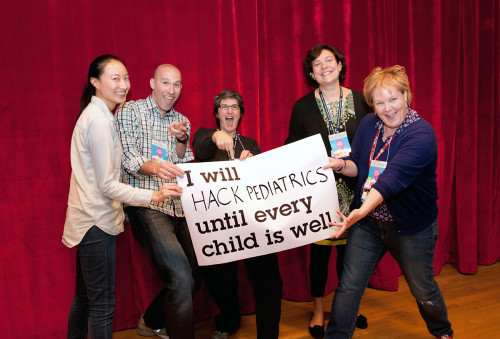 Above: The Hacking Pediatrics team: Judy Wang, MS; Michael Docktor, MD; Alex Pelletier, MBA; Margaret McCabe, PhD, RN, PNP; Kate Donovan, PhDc, MBA, BS (Photos: K.C. Cohen)
Michael Docktor, MD, is a pediatric gastroenterologist, director of clinical mobile solutions at Boston Children's Hospital and a co-founder of Hacking Pediatrics.
A hackathon is most easily explained by relating it to the crowd-sourced, time-crunched challenges that we see every day in pop culture. From "Top Chef" to "The Apprentice" to "Extreme Makeover," television is teeming with passionate individuals trying to solve a difficult task with incredibly constrained resources and time. What results is often remarkable by any standard and speaks to the power of concentrated, collaborative problem solving.
When the challenge involves children and their health, the results can be magical, as witnessed by the weekend-long Hacking Pediatrics in late October, the first event of its kind. More than 150 "hackers," including engineers, designers, software developers, entrepreneurs and roughly 40 clinicians gathered to create ground-breaking solutions for children and their families. Full story »