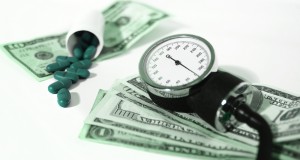 Early-stage researchers face a stark economic reality: decreasing available dollars. To address this barrier, a panel of experts at Boston Children's Hospital's National Pediatric Innovation Summit + Awards 2013 discussed the shifting of funding from venture capitalists to larger medical device, informatics and pharmaceutical companies.
Alan Crane, general partner at venture capital (VC) firm Polaris Partners, said it is a very difficult time for early-stage life sciences innovation, especially with respect to resource generation. "There were periods when innovation was stronger," he said. "In 2000, there were 1,000 VC firms, now there are 350. Also, the size of the funds has decreased substantially, particularly for early-stage life sciences. While some biotech firms are going public, this trend hasn't trickled to the earlier stages."
To garner funding, Crane said, researchers need a proof of concept—for a clinical model and a business model. This proof of concept will vary based on the product or the nature of the innovation. "You have to create a model that would be attractive to industry through showing some type of commercial viability and sustainability," he said. "It's a practical reality that this business model is a requirement in today's setting, but this can be challenging with early-stage innovations."
He referred to the Boston Children's Technology and Innovations Development Office, which works with physician-researchers to move scientific discoveries to a solid proof of concept poised for industry or VC investment. "Most researchers are not experts in this process, so facilities like Boston Children's are assisting with that portion of translational research," Crane said.
Panelist Martha Murray, MD, orthopedic surgeon at Boston Children's Hospital, offered another model. Her research team has hired a consultant for approximately 10 hours per week to inform them of the business considerations related to their research.
Shifts in funding
Also, some funding is being shifted. "The money that used to be spent in the basic lab setting is now being realigned to contract research organizations to obtain that critical proof of concept," Crane said. "The larger pharmaceutical and medical device companies have had a dramatic shift in the past few years, because they are starting to recognize their role in the ecosystem―aggressive investing in earlier-stage companies."
As an example, Johnson & Johnson (J&J) has just opened an Innovation Center in Boston, as well as in California and London. They plan to open an additional one in Shanghai at the end of the year.
"The economic reality and what health care will be expecting of products in the not-so-distant future was part of the driver in our formation of these centers," said Robert Urban, PhD, head of the J&J Innovation Center in Boston. "In the past, it was reasonably sufficient for larger companies to sit back and wait to see where the next part of the health care food chain would lead. There are drastically fewer dollars available to entrepreneurs, so it's no longer appropriate for large companies to sit on the sidelines and wait for the trickle down of innovations."
Partnerships as pathways
The news isn't all dire, according to Crane. One newer development propelling innovation is the fostering of partnerships between all key stakeholders, including researchers or scientists, physicians, venture capitalists and large industry players in the medical device, pharmaceutical and technology fields.
"Industry's job is to work collaboratively to explore how we may invest—finances as well as industry expertise—for new health care innovations," said Urban. "We can help the scientific process evolve in more capital-efficient way, if we're inserted into the process earlier."
As the VCs are moving from early stage to late stage development, it has provided "an opportunity for larger companies like IBM and J&J to enter the process sooner, even on the technology side," said Michael Rhodin, senior vice president at IBM Software Solutions Group.
Accentuate the positive
"There is a lot to be proud of in pediatric innovation," Joseph Frassica, MD, vice president and chief medical informatics and technology officer at Philips Healthcare. Over the past 30 years, survivorship for acute lymphocytic leukemia has risen from 57 percent to 87 percent, for instance. Likewise, in neonatology, the survivability for a baby born at 24 weeks is much higher, where it wasn't possible in the 1970s.
"Pediatrics is fertile ground for innovation that can be spread across health care," added Frassica, but he also made a plea for data, which are often lacking in pediatrics due to the smaller patient population. Philips has mined data on 2 million patients, and only 8,000 of those patients are children.
"Data needs to be transferred academic centers where it now lives to be collectively pooled within repositories that can make the information actionable," said Urban.
With this type of large-scale data, the panelists agreed that the next wave in pediatrics will be in predictive analytics based on phenotyping, not from a drug, device or diagnostic.