Telemedicine has the potential to transform healthcare and lower costs. A new Massachusetts law requires insurers to pay for it—but with a potential loophole.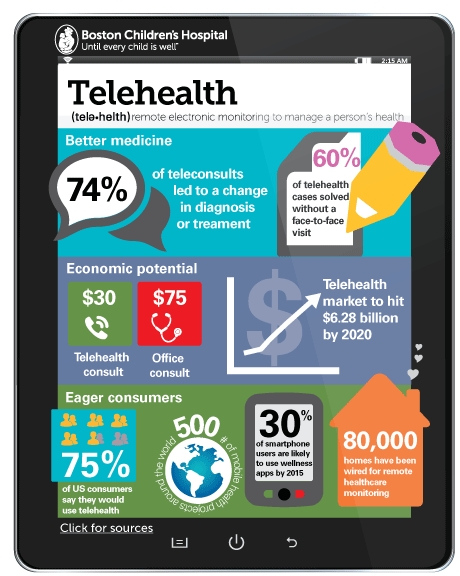 The mandate for broader access to health care in Massachusetts has brought millions of newly insured patients into the system. At the same time, the cost of health care in Massachusetts has continued to rise, and care access issues have emerged.
This past August, Massachusetts Governor Deval Patrick signed a new law that attempts to lower costs by shifting providers away from fee-for-service payment to alternative payment models (APMs) in which they incur more financial risk, and encouraging the development of accountable care organizations (ACOs).
One provision of this law requires insurers to pay providers for services delivered remotely via "telemedicine." Massachusetts is now the sixteenth state to pass telemedicine reimbursement legislation, and the fourth to do so in the past year.
Telemedicine has the potential to bend the cost curve and drive truly disruptive innovation in the delivery of care, whether in a fee-for-service environment or in the emerging world of APMs and ACOs. Telemedicine can also have a positive, transformative role in how clinicians work together, enabling them to receive timely advice from outside their walls.
Unfortunately, the Massachusetts law, welcome as it is, comes with a potentially restrictive twist: A sentence was inserted saying that an insurer "may limit coverage of telemedicine services to those health care providers in a telemedicine network approved by the insurer." Stealing a line from Carly Rae Jepsen's song, I've dubbed this the "Pay Me Maybe" clause.
Payment is the biggest barrier to widespread adoption of telemedicine, inhibiting our ability to create new care models that can deliver high-quality care in lower-cost, more accessible settings—and that are often the right thing to do for our patients.
Imagine allowing a child on a ventilator or recovering from surgery to be monitored more closely at home, avoiding hospital readmissions and arduous trips to the clinic. Or imagine physicians being able to view a child's home environment and coach parents through minor procedures that would take two minutes in the office. Or using mobile apps and web-based tools to monitor children with chronic conditions such as ADHD, asthma, diabetes and obesity.
As we and other providers throughout the state work to overcome the "Pay Me Maybe" clause and solidify insurers' commitment to alternative healthcare delivery models, Boston Children's has successfully deployed several telemedicine programs at our own expense. In addition to those above, we have funded "shared care" initiatives to support pediatricians treating patients with headaches or gastrointestinal issues. The Innovation Acceleration Program at Boston Children's is spearheading many other telemedicine initiatives. One allows our physicians to remotely assess emergency room patients and determine whether they need a helicopter, or just an ambulance, to transport them to our trauma center. Another enables our specialists to screen newborns in community hospitals for retinopathy of prematurity using "store-and-forward" technology.
The Government Relations team at Boston Children's is actively engaging the Division of Insurance, which is largely charged with implementing the law, to determine how broadly they plan to allow insurers to interpret the "Pay Me Maybe" provision. I'm confident the Division will see the power and value of telemedicine, and that it will not allow insurers to narrowly define telemedicine networks and limit payment. I've already started writing a future blog titled "Beautiful Day," to commemorate the moment we resolve this pressing issue favorably, transforming the way we deliver care and interact with our patients, doctors and community providers and hospitals.
Shawn Farrell, MBA, is Telemedicine and Telehealth Program Manager at Boston Children's Hospital and part of the Hospital's Innovation Acceleration Program.