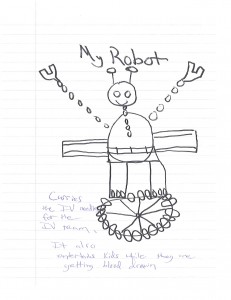 Hospital innovators are beginning to turn to robotic systems – some as simple as a cell phone that enables video conferencing between doctor and patient – to enhance patient care and lower costs (see yesterday's post). The Child Life department at Children's Hospital Boston asked kids staying at the hospital to share their ideas for robots that could help them and assist their doctors and nurses. A few hospital staff got in the spirit, too.  At left and below are a few of their submissions. Click to enlarge them.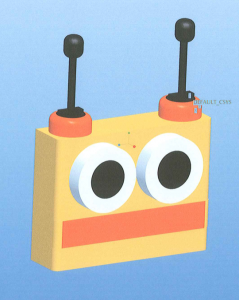 >>>Designed first with legos, "Harold" has two antennae that function both as hands and an FM radio, so it can help carry things around the hospital while rockin' to some tunes. Because it likes music so much, it learned how to dance to entertain patients and their families. Its eyes can also see x-rays and into the infrared range, so it can check for broken bones and see if someone is sick. It speaks a variety of languages and plays card games and hide-and-go-seek. "A team of Harold Robots will eventually take over all of the jobs at the hospital and remove all human error!" its designer writes.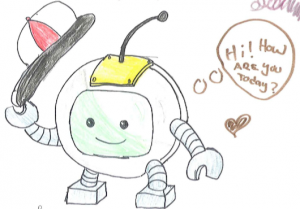 <<< The Anybot can do anything you tell it to do, its 14-year-old creator tells us.  "It speaks 119 different languages and it can turn into a plane and fly 1,000 feet in the air," she writes. "And this robot does not need food, water or oil. It runs on solar power." It plays games "and can also make you all better when you are sick in the hospital!"
>>>ET the Phonbot was created by a nurse and a group of patients. This robot lets children in the hospital Phone Home and video-chat with their families.
<<<The eRecord Robot, a patient records/child entertainment system, was designed by a member of the Department of Anesthesia. "Each child will receive an eRobot upon entering Children's and will keep it until they leave the hospital," she writes. "Abilities include secure electronic recordkeeping (accessed only by physician-specific secure PINs) and fun things for kids while they wait to be seen: LeapPad interactive programs, on-demand children's movies and TV shows, and educational games for all ages."
>>>The staff-designed Coffeebot 4000 is the latest in caffeine delivery. "This awesome device can be summoned by page to any location where coffee is needed by the always-tasked staff to help them STAY ON THEIR GAME!"
<<<Sterence is a movie and radio-playing robot. "I was created so that the people in the hospital wouldn't be bored if there wasn't a TV in their room. Sterence has a customizable tripod of wheels so it can change its height if the person is sitting, laying down or standing. It has a convenient carrying pouch for the remote so it can't get lost!"
Here's some more that are high on the cuteness meter:
What capabilities would you or your kids build into a medical robot?
Ed note: Visit Facebook to help Children's name its new robot.