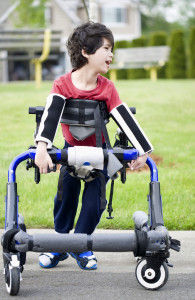 The start of what promises to be a lengthy, multi-part endeavor has begun unfolding on Capitol Hill. It's an attempt to reform the Medicaid program so that children with medical complexity (those with a single, serious medical condition, or multiple chronic conditions) can receive higher quality care with fewer emergency department visits and fewer hospital admissions.
When you think of medically complex children, think of children living with conditions such as spina bifida or cerebral palsy, children dependent on ventilators or feeding tubes, or children with genetic disorders. They represent just 6 percent of the 43 million children on Medicaid—yet they account for about 40 percent of Medicaid's spending on children. Their care is often fragmented and poorly coordinated.
The reform effort, led by more than 60 participating pediatric hospitals and supported by the Children's Hospital Association (CHA), focuses on Medicaid because it's the single largest insurance provider for children. The backdrop is a cost-conscious Congress that's the most politically polarized ever, passing the fewest bills ever.
"We have to have a proactive solution that looks to improve care delivery while saving costs, because Medicaid is going to be on the table when they're talking about cuts," said Aimee Ossman, CHA director of policy, at a recent talk at Boston Children's Hospital.
The CHA's proposal is just a first step, not a sweeping reform. The draft legislation would:
establish national, children's-hospital-based care networks specifically to serve medically complex children
encourage the networks to collaborate in order to establish care coordination guidelines, quality measurements and risk-based payment models to lower costs of care
improve regional access to care across state lines
create a national Medicaid claims database, linked across states and care settings, to inform best practices and quality improvement initiatives
Just as states could choose to opt into the Medicaid expansion under the Affordable Care Act, states' participation in these proposed programs would be voluntary. The proposal would also enable state Medicaid programs to fine-tune their own care delivery models based on their individual needs.  "We don't want to be too prescriptive in this legislation," says Ossman.
Joshua Greenberg, JD, vice president of government relations at Boston Children's Hospital, agrees. "It's more important for participating states to have an ownership interest in it," he says. "We're not trying to tell people what kind of house to build, but to have standards for what the house should be made of."
While the legislation has not yet been introduced into Congress, it has so far received bipartisan support.  A cost savings analysis sponsored by the CHA projects a Medicaid savings of $13 billion over 10 years through reduced emergency department visits and hospitalizations, representing a 1.9 percent cost decrease. This is a modest savings in Congressional budget terms, but the gains in quality of life for the children could be tremendous.
If you're interested in helping to support this initiative, visit speaknowforkids.org or contact [email protected] or [email protected].