One of these children, Joshua Frase, succumbed to MTM on Christmas Eve, 2010. The son of former NFL player Paul Frase, he lived to age 15. But his parents, who continue to actively support MTM research, now see a glimmer of hope for children born with the disease today.
A preclinical study on the cover of last week's Science Translational Medicine, funded in part by the Joshua Frase Foundation, showed dramatic improvements in muscle strength using gene replacement therapy in mouse and dog models of MTM—paving the way for a potential clinical trial.
The study brings together several research teams from around the world and builds on more than a decade of prior investigations.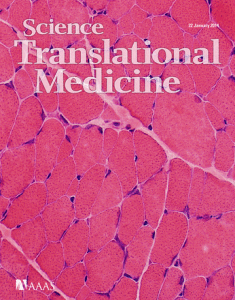 The story began with the cloning of the MTM gene, called MTM1, by a French group in 1996. Alan Beggs, PhD, director of The Manton Center for Orphan Disease Research at Boston Children's, began studying MTM1 in the late 1990s. MTM1 encodes a protein called myotubularin, and Beggs's lab showed in 2013 that replacing the missing myotubularin improves weakened muscles' ability to contract. That work, done in collaboration with Anna Buj-Bello, PhD, at Généthon (France), used a special strain of mice that Buj-Bello had engineered to carry an MTM1 mutation like the ones found in children with the disease.

Meanwhile, Beggs led another study, published in 2010, that identified a group of Labrador retrievers with an MTM1 mutation and weakness much like that seen in children. Frase, learning of this through Beggs, got the help of the dogs' veterinarians in tracking down one of the dogs' owners.

"I explained to the owner about Joshua, where we were in the research and how we needed a large animal model," Frase told Vector last year. "Before I could even finish my story, he said, 'I want to give you my dog Nibs.'" The retriever was thought to be a genetic carrier for the condition, but was herself unaffected. Frase flew from Florida to Saskatoon and brought her home.

Nibs indeed proved to carry an MTM1 mutation. She was the start of the world's first MTM dog colony, established at the Wake Forest Institute of Regenerative Medicine (Winston-Salem, N.C.) in collaboration with Martin Childers, DO, PhD, now at the University of Washington, with funding from the Joshua Frase Foundation.

At that point, everything came together. Beggs introduced Childers to the Buj-Bello group, which had pioneered gene therapy in the mice, and the three of them teamed up. Using a harmless adeno-associated virus (AAV), created by Généthon, as a vector to carry the gene, they delivered a healthy copy of MTM1 to the skeletal muscles of affected mice and dogs, including three of Nibs's descendants.

A single intravenous injection of the gene-bearing AAV produced rapid and striking results: Both mice and dogs lived longer and showed marked gains in muscle strength and function. As shown in the dramatic video below, produced by the University of Washington and narrated by Childers (jump to 1:46), dogs that had become too weak to stand were able to run around within weeks of the gene therapy treatment. Remarkably, these gains persisted during follow-up (six months in the mice and more than a year in the dogs).

"Importantly, the dogs also significantly improved their respiratory function and showed no evidence of a toxic or immune reaction from the treatment," adds Beggs.

Microscopic studies showed correction of the structural defects in skeletal muscles throughout the body as late as one year later, even in animals that were previously severely affected, as shown in the image below.

"We already knew from Anna's work that injecting AAV-MTM1 into a single muscle of a mouse improved that muscle's structure and function," says Beggs. "But the new data, showing that systemic injection dramatically increases overall strength and lifespan in both mice and dogs, is extremely exciting. It paves the way for development of this approach into a powerful treatment for children with MTM."

"What was once a dream has turned into guarded hope," says Frase. "Our goal of saving lives seems within reach. We are one step closer."

For more on this research, read this two-part series published on Vector last year, and check out this video interview series with Beggs. In addition to the Frase Foundation, work at Boston Children's was supported by the National Institutes of Health, the Muscular Dystrophy Association (MDA) and the Anderson Family Foundation. The work was supported in Seattle by the NIH, the MDA, Where There's a Will There's a Cure and the Peter Khuri Myopathy Research Foundation, and in France by the Association Française contre les Myopathies, INSERM, Genopole d'Evry, Région d'Alsace and the Myotubular Trust (UK).

Babies born with X-linked myotubular myopathy (MTM), which affects about one in 50,000 male births, are commonly referred to as "floppy." They have very weak skeletal muscles, making it difficult to walk or breathe; survival requires intensive support, often including tube feeding and mechanical ventilation. Most children with MTM never reach adulthood.