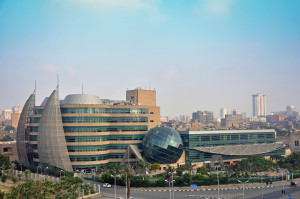 Geography can be cruel. An 8-year-old diagnosed with leukemia in Europe or North America can expect a challenging but curable course. Her care, provided by a team of pediatric specialists, includes state-of-the-art imaging, thorough infection prevention and, often, multiple options for treatment.
Her peers in the Middle East and North Africa face a dramatically different prospect. Laboratory and imaging infrastructure can be limited, so diagnoses are made at later, less curable stages. Some patients can't access acute care because hospital beds are in short supply. Available beds may be occupied by outpatients who can't return home or palliative patients without access to hospice care. At many hospitals, pediatric inpatients are cramped into 10- to 15-patient wards, raising the risk of infection and other complications for children with compromised immune systems.
The overall lack of medical infrastructure and dearth of providers contribute to a substantial disparity in childhood cancer survival rates between high-income countries and the developing world. While many countries in Europe and North America have achieved cure rates in the 80 percent range, survival rates hover near 20 percent in low- and moderate-income countries.
A new model for pediatric cancer care
A small fraction of pediatric patients from the Middle East and North Africa receive care at Children's Cancer Hospital Egypt 57357, the world's largest pediatric cancer hospital. In the six years since the hospital opened, the cure rate for children has risen from 20 to 30 percent up to 60 to 70 percent, and, for some diseases, now approaches 90 percent.
However, due to lack of space, the 270-bed hospital, which provides free care, turns away five children for every patient it accepts.
A partnership between Children's Cancer Hospital Egypt 57357 and Dana-Farber/Boston Children's Cancer and Blood Disorders Center aims to address the gap. The institutions have launched an international pediatric oncology fellowship program that educates Middle Eastern and North African physicians in state-of-the-art techniques in the context of the local environment.
"We're training oncology fellows to North American standards in the Egyptian health system. The issues are very different. We want to train physicians in their environment and in regional issues," explains Mark Kieran, MD, PhD, director of neuro-oncology at Dana-Farber/Boston Children's.
For example, the hospital treats many patients from nomadic families who travel a great distance. They arrive with one set of clothes that may be caked with mud and parasites and pose a substantial infection risk for immuno-compromised patients. So the hospital provides clothes for the family. "These are issues fellows would not learn about if they were trained in North America or Europe," says Kieran.
Medical education and technology investments
The comprehensive, 2.5-year pediatric oncology fellowship, part of a multi-faceted collaboration, follows American Academy of Pediatrics guidelines––with one key difference. Fellows will be credentialed to practice in their home countries, and not in North America or Europe, which will help to reduce the exodus of medical expertise that plagues developing countries. "The goal is to raise the standard of care everywhere, not to create a two-tiered system," says Kieran.
The program will select its first two fellows in February, and the rotation begins in May. By the third year, the program will accept six fellows per year.
As fellows return to countries across North Africa and the Middle East thoroughly versed in state-of-the-art techniques, Kieran hopes there will be an incentive for countries to raise their standards of pediatric oncology.
Another component of the program is a massive upgrade to the hospital's physical structure, expanding to 630 beds and adding infrastructure, including 10 MRI-equipped operating rooms and a proton therapy facility. These upgrades will reduce the number of patients turned away and support state-of-the-art care.
The upgrade also includes a 60-bed hospice house and 145-bed family house, which will allow 57357 to reserve inpatient beds for acute patients and provide more appropriate settings to meet patients' diverse needs. Currently, children who require only palliative care often remain in the hospital because there is no appropriate discharge option. In other cases, children who need outpatient care often have extended inpatient stays because they cannot be safely discharged to home environments, where infection risk due to unclean water can jeopardize their outcome.
Looking ahead
Kieran hopes that a center like 57357 located in North Africa, allowing patients to obtain the same quality of care and outcomes as children in North America and Europe, will become the engine by which health care standards are raised across the region. He expects, however, that the conversion will happen at a different pace and in different ways in various countries. "We are trying to demonstrate that if the goal is to join the developed world, countries need to accept the cost [of medical infrastructure] as the price and advantage of development."