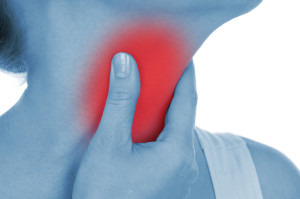 Do you have a fever?
Do you have a cough?
If you're sitting at home with a sore throat, your answers to those two questions could be enough to tell whether you should see a doctor for a strep test, thanks to a new risk measure created by Kenneth Mandl, MD, MPH, and Andrew Fine, MD, MPH, at Boston Children's Hospital.
Called a "home score," the measure combines the two questions above, your age, and data on the level of strep activity in your geographic area. The basic idea is that your symptoms, plus the big picture of what's happening in your neighborhood, is a strong enough predictor to for you to go to the doctor for a throat swab.
Thought it's just a research tool for now, if it were it were packaged into an app and fed the right data (localized strep test results from a health center or medical testing company, for example), the home score could allow someone with a sore throat to make an informed decision about whether they should consider going to the doctor.
According to Fine, who works in Boston Children's Division of Emergency Medicine, the home score takes the anecdotal approach to diagnosis and replaces it with data.
"When do you go to see the doctor for strep? When you have a sore throat and you hear that your neighbor's child or your friend has strep," he says. "If you had data to support the presence of a localized outbreak, though, you could make that judgment call more effectively."
According to Mandl and Fine, it's the first health care measure to combine patient-contributed data with public health "big data"—in the form of local biosurveillance data for strep—in a way that can help an individual assess his or her risk of having a communicable disease.
"There is a lot of information that patients have that, when combined with the appropriate data, could provide useful diagnostic insights," says Mandl, who runs the Intelligent Health Laboratory in Boston Children's Informatics Program. "It won't tell a doctor if a patient has strep throat, but could give an idea of whether they can stay home, wait a couple of days and maybe treat them empirically without a visit."
Saving visits, saving time
The home score builds on Mandl and Fine's efforts to find ways of incorporating local public health data into direct patient care. Two years ago the pair developed a statistic called the recent local proportion positive, or RLPP. The statistic relates the number of people who tested positive for strep in a given local area to the number tested in that area in the previous two weeks.
"It would make sense that if strep throat is present in a population, a patient going to the doctor at that time for a sore throat would be more likely to actually have strep throat," Mandl explained at the time. "That was our baseline assumption."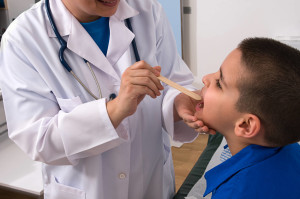 That previous work to develop the RLPP was based on data about strep throat visits and diagnoses provided by MinuteClinic, CVS Caremark's retail health clinic business. To develop the home score, Mandl and Fine turned again to the RLPP and the MinuteClinic data and modeled them to see what effect the score could have on patient visits.
And that effect could be substantial. Taking their model results and extrapolating to the 12 million doctor visits for a sore throat in the U.S. every year, Mandl and Fine report in the Annals of Internal Medicine that widespread use of the home score could eliminate upwards of 230,000 doctor visits.
"There are large financial costs to the health care system and opportunity costs for the patient in going to see the doctor," Fine says, commenting on the impact of the potential reductions in visits. "If the home score shows that a patient's strep risk is sufficiently low, he or she might delay going for a couple of days, which, given that strep doesn't progress rapidly, would be okay."
"This provides an opportunity to reverse the flow of data in public health and medicine for the benefit of patients," Mandl says. "Information usually flows from clinic to public health. But with the home score, we're feeding data from public health back into clinical care."