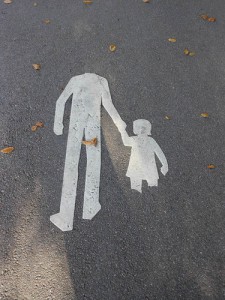 Advances in medical care sometimes present challenges on the flipside. Case in point: Over the past three decades, progressive developments in pediatric cardiac care have allowed many babies born with congenital heart disease (CHD) to survive. And longevity continues to improve. This progress, however, has brought hospitals a burgeoning patient population with tremendously complex and varied disease states.
About 90 percent of children born with heart defects now survive to adulthood, thanks to diagnostic, interventional and critical care improvements. Specifically, one-year survival has improved from 67.4 percent from 1979 to 1993, to 82.5 percent from 1994 to 2005.
"The number of pediatric hospital admissions for congenital heart disease is increasing relatively slowly, but as the patients live longer and develop common adult medical issues, adult patient admissions are increasing much more rapidly," says Alexander Opotowsky, MD, MPH, cardiologist at the Boston Adult Congenital Heart (BACH) and Pulmonary Hypertension services at Boston Children's Hospital.
In a recent research letter to the Journal of the American Medical Association, Opotowsky and colleagues reported on 8 million CHD admissions at 1,000 hospitals. Adult admission volume was 87.8 percent higher from 2004 to 2010 compared with 1998 to 2004. Meanwhile, pediatric admissions grew 32.8 percent between the two time periods.
Thus, annual adult admissions are approaching those of children, accounting for 36.5 percent of all congenital heart disease admissions, noted the authors.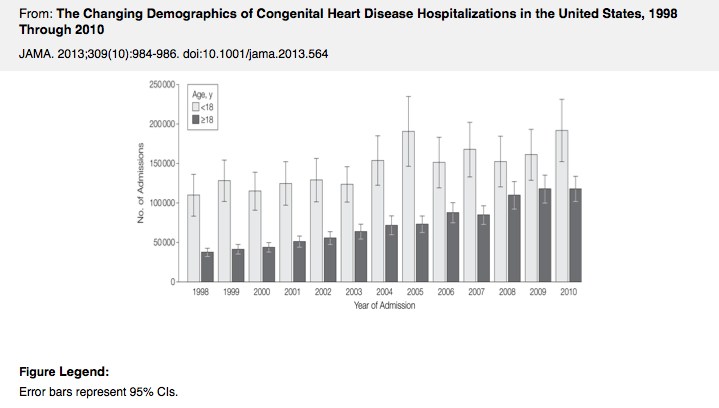 This increase doesn't simply mean an influx of additional patients, but also a new type of patient. "These adult patients have undergone more procedures and have a greater burden of prior cardiac interventions and comorbidities, as well as the additional psychosocial stresses that arise from living their lives with a chronic condition or conditions," says Opotowsky.
As pediatric patients with CHD age, they will require services outside of cardiology, such as in obstetrics, pulmonology or psychiatry. As a result, questions have arisen about who should manage them.
"The delivery of care for these patients needs to be deeply collaborative," Opotowsky points out. "Pediatric cardiologists are true experts in detecting, imaging and treating congenital heart disease, but adult specialists bring a broad perspective with an understanding of commonly acquired medical issues and an approach integrating other comorbidities of these patients."
To facilitate collaborative care, Boston Children's has developed a partnership with Brigham and Women's Hospital. Laurence Sloss, MD, and Michael Landzberg, MD, at Boston Children's, have been developing the BACH service over the past three decades. Partnering is particularly helpful when adult patients with CHD need to be admitted to the hospital for procedures or surgeries unrelated to their heart disease, but still require expert monitoring of their CHD.
One more common management challenge relates to adult women with CHD who become pregnant. One study of 53 pregnancies in women with CHD found substantial maternal cardiac and neonatal complication rates. Recognizing this as a growing medical management consideration, recent guidelines from the American College of Cardiology/American Heart Association (in 2008) and the European Society of Cardiology (in 2011) include pregnancy recommendations for various congenital lesions, suggesting the management plan include labor and the postpartum period.
Despite such guidelines, it is incredibly hard to develop clinical criteria that can be widely applied to the CHD population.
"While the 2008 guidelines sought to provide generally applicable guidance for these patients, over two-thirds of recommendations carry a level of evidence of C," says Opotowsky, who continues to participate in research aimed at optimizing care for adults with CHD. "These recommendations are based on expert opinion or small case series that are typically deemed as a weak evidence base. This limitation is due to both the recent emergence of the field and the heterogeneity of the patients.
"The care has to be incredibly personalized and tailored to the needs of each patient," Opotowsky adds. "This is what makes caring for these patients both challenging and so wonderfully rewarding."