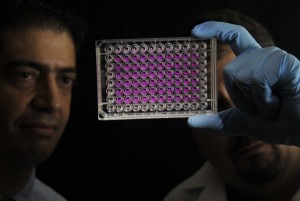 Ofer Levy is nothing if not passionate. Talking about his new project, he starts taking notes on my pad for me, to make sure I catch every detail. When Levy was getting his MD/PhD at NYU, one of his mentors told him, "In pursuing your life's passion as a researcher, you should set your sights on a distant star."
For more than a decade, Levy, in the Division of Infectious Disease at Children's, has been doing just that: asking why newborn babies don't get protection from most vaccines, and looking for ways around the problem.
Hearing Levy give a talk, Geert Vanden Bossche was taken with his passion – and with what Levy had to say. A senior program officer at the Bill & Melinda Gates Foundation, Vanden Bossche knew the importance of being able to vaccinate a child at birth. Globally, birth is the only contact most children have with a health care provider – and their only chance to be vaccinated at all. As it is, more than 2 million infants under 6 months old die of infections every year.
Here's the problem. Before birth, a baby's innate immune response is dialed way down to prevent it from attacking the mother. After birth, until about two months of age, the immune system remains immature. Even newborns lucky enough to get vaccines respond poorly to most of them before 28 days of age (BCG and hepatitis B vaccines are among a few exceptions). But could a good adjuvant – a compound that boosts a vaccine's effectiveness — overcome this?
Not many labs in the world are studying newborn immunity. But Levy's had already discovered that a part of the newborn's immune system – a white-blood-cell receptor called TLR8 - triggers a robust immune response when stimulated. Various TLR8 simulators, tested as adjuvants, showed good results in white blood cells from newborn humans and newborn monkeys. Vanden Bossche encouraged Levy to apply for a grant, and last month, the Gates Foundation awarded his lab $2.4 million.
With collaborators at the École Polytechnique Fédérale de Lausanne in Switzerland and Apogee Technology (Norwood, MA) the lab will develop and test novel vaccine formulations containing novel adjuvants – including nanoparticles, polyphosphazenes and combinations with TLR8 agonists. They're hoping these formulations will better target the lymphatic system, where key immunologic transactions play out, trigger protective neonatal immune responses more effectively, and ultimately prove safe and economical, allowing smaller doses of expensive vaccine antigens to be used.
Since results in cells or animal models often don't accurately predict the vaccine responses of newborns or young infants, Levy also needed a way to simulate the actual immune system of a living human baby. He hired Guzman Sanchez-Schmitz to develop a three-dimensional, tissue-engineered construct that will serve as the test system – the first of its kind.
Sanchez-Schmitz has already helped create an adult "immune system in a tube," coming from Cinvestav (Mexico City's version of MIT) to work on a subcontract for the Department of Defense. "The first time I heard about that project, I almost laughed," he says. "Most scientists would think it's too ambitious. The immune system has many parts, works in many different ways, and involves multiple cell types."
But he saw that it could be done, and is now working toward creating a counterpart for the newborn immune system. I can't reveal all the details, but the neonatal tissue construct will include blood plasma, several kinds of immune cells, and tissues simulating blood vessels, lymphatics and lymph nodes. All components will originate from the cord blood of the same newborn.
Although the Gates Foundation's interest in global health is driving this project – indeed, the first pathogen to be tested will be HIV – it stands to benefit all newborns.  Even in wealthier countries, newborns, especially preemies, are vulnerable to serious infections like respiratory syncytial virus, pneumococcus and rotavirus.
"Currently we have a 2, 4, and 6-month vaccination structure that leaves a window of vulnerability, where the child isn't fully protected," says Levy. "Could we close that window with a single good vaccine at birth?"