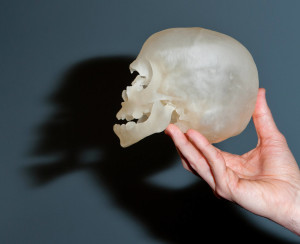 A picture may be worth a thousand words, but there's something about holding an object in your hands that's worth so much more. I realized this when John Meara, MD, DMD, handed me the skull of one of his patients.
I turned it over in my hands while Meara, Boston Children's Hospital's plastic surgeon-in-chief, pointed out features like the cranium's asymmetric shape and the face's malformed left orbit.
Mind you, it wasn't actually Meara's patient's skull in my hands. In reality, I was holding a high-resolution, plastic 3D model printed from the patient's CT scans.
The printer that made that model—and several other models I saw in the last month—is the centerpiece of a new in-house 3D printing service being built by Peter Weinstock, MD, PhD, and Boston Children's Simulator Program.
3D printing technology has exploded in the last few years, to the point where anyone can buy a 3D printer like the MakerBot for a couple of thousand dollars or order 3D printed products from services like Shapeways. Adobe even recently added 3D printing support to Photoshop.
And 3D printing is already making a mark on medicine. Full story »