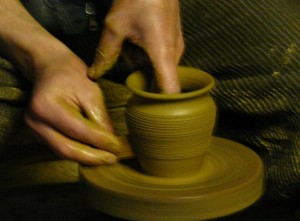 Hiep Nguyen is a pediatric urologist and surgeon at Children's Hospital Boston, where he directs the Robotic Surgery Research and Training Center and is chair of Innovative Urological Technology. Off-hours, Nguyen is a painter, potter and photographer.
An amorphous piece of clay spun on the pottery wheel. A gentle pair of hands made quick graceful movements, and within minutes a beautiful bowl emerged. I watched in amazement how simply my friend and pottery colleague brought a piece of art to life.
Any other day, she would have smiled and marveled at her creation, but not this day. This day she grimaced and gently wrapped her arms around her belly. Being a physician, I'd seen this face before — one of pain. In Holly's case, it is one that I have seen too often during the last several months.Holly has end-stage renal disease. Her kidney function has been on the decline for many years now, and in the last two years she has needed dialysis. Her nephrologist started her on peritoneal dialysis, which uses the abdomen instead of the kidneys to filter and remove waste products from the body. Fluid is introduced into the abdomen through a permanent tube, draws waste products from the blood via the peritoneum (the membrane lining the abdominal cavity) and is flushed out of the body, either at night or at regular intervals.
Peritoneal dialysis can be done at home and is gentle on the body, and it worked for a while in Holly. But it also caused recurrent scarring and infection. Eventually, she could only use small amounts of fluid to do the dialysis regularly and had significant pain whenever the fluid was infused into her abdomen.
After a year or so of being miserable, Holly had to switch to hemodialysis. She now had to go into the hospital three times a week, for 5 to 6 hours per session. In this form of dialysis, blood is extracted from the body and filtered through a machine to remove waste products. While very efficient in removing waste products, hemodialysis causes rapid changes in the body that often leaves patients weak, tired and feeling unwell. As a result, Holly spent most of her time at home or in the hospital, not able to do what she loves best — her art.
Being on dialysis can save a patient's life, but it reduces the quality of that life. During Holly's rare times in the pottery studio, I saw more often the face of pain and fatigue than one of joy and hope. I watched her visits to her beloved pottery bench become fewer and fewer. I had to believe there was a better way.
Several months ago, while in Germany working with a company on developing new robotic devices, I saw a device for helping the heart work better. The engineers proudly demonstrated this innovative piece of engineering technology. While in awe of its design, I began to see it not only as a simple heart device, but as a solution for Holly and other patients who are bound to dialysis.
It seemed to me that with some modifications, we could develop an implantable dialysis unit that would have the benefits of both hemodialysis and peritoneal dialysis — without their disadvantages. This unit would perform dialysis with the efficiency of hemodialysis, but do so continuously, avoiding the rapid shift in body chemistry and blood-pressure changes that make patients feel unwell. It would allow dialysis to be done at home rather than in the hospital, like peritoneal dialysis, but without infection or scarring of the abdomen.
I drew out my concept for this device. On paper, it's the perfect solution for the 500,000 patients like Holly in the U.S. who are currently on dialysis. However, making a real device isn't simple. Will restructuring the device alter its perfect fluid dynamics? Will the dialysis membrane be of sufficient size to allow for adequate removal of waste products? Despite these doubts and questions, we have begun the process of making a prototype, working with colleagues in nephrology, the Technology and Innovation Development Office at Children's, and the robotic device company.
The prototype will be known as the "Holly I." A friend and colleague is the source of its inspiration. The journey in making my simple drawing on paper into a working device will be complicated and laborious. But I look forward to the challenges, because what we could achieve at the end will be worth the effort. I believe in this device… not because of its mechanics or its engineering but because it is a human-inspired technology.